See massive outdoor sculptures created exclusively for The Morton Arboretum rise above the natural landscapes. The Morton Arboretum sculpture exhibition will deeply connect us to the trees like never before.
Opening April 9, 2021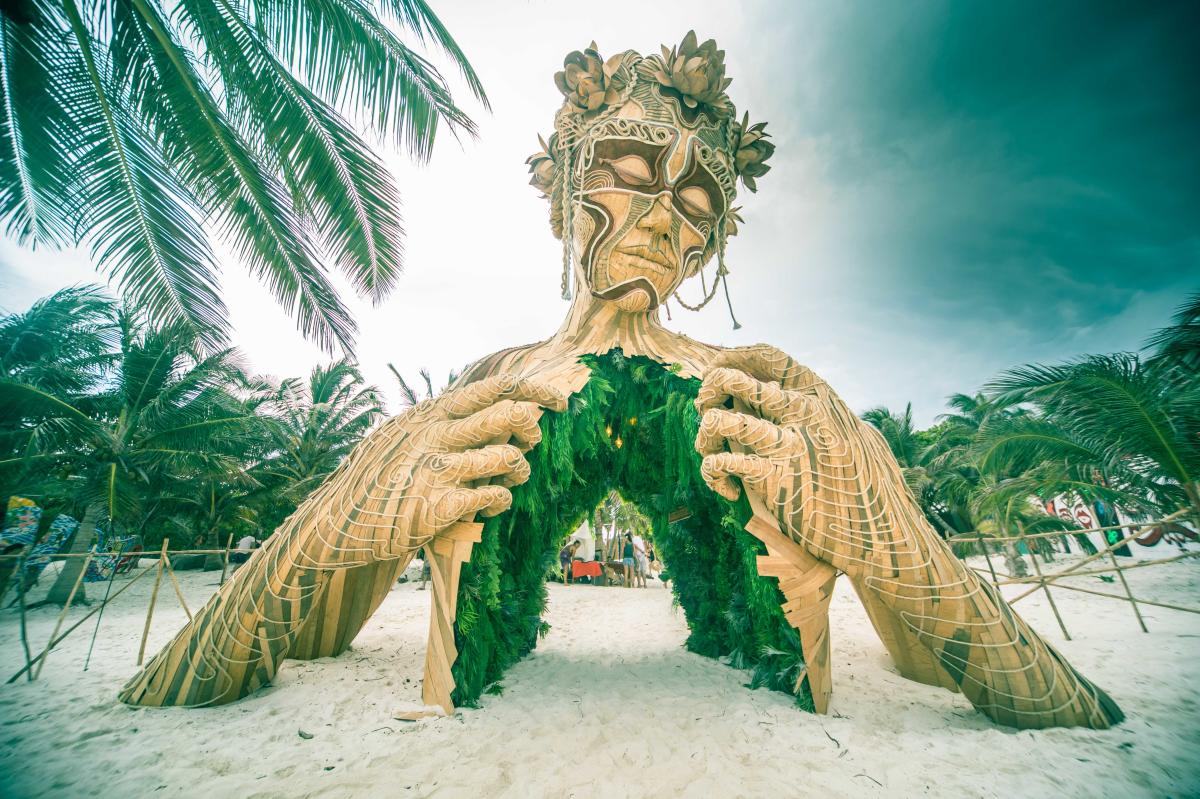 (Pictured above: The towering installation, Ven a la Luz (Come into Light), was installed in Tulum, Mexico in 2018. Photograph by Phoebe Montague.)
Human+Nature will be South African artist Daniel Popper's largest exhibition to date. 20- to 25-foot-tall sculptures will be installed across 1700 acres of The Morton Arboretum. Using thought-provoking human forms paired with elements of nature, each piece will bring attention to the connections between humans and the trees and create a sense of awe and wonder. The installations will include a towering interpretation of a Mother Nature figure welcoming Arboretum visitors to interact by walking inside the sculpture.
Tickets to Human+Nature Exhibition:
The Human+Nature exhibit will be free of charge with general Arboretum admission. Timed-entry passes and tickets are required for all guests and will help ensure paced arrivals and moderated attendance numbers. You must purchase your timed-entry tickets in advance.
Tickets will not be sold at the gate.
Ticket Prices:
Adults ages 18–64, $15 ($10 Wednesdays*)
Seniors 65, +$13 ($9 Wednesdays*)
Children ages 2–17, $10 ($7 Wednesdays*)
Children 1 and younger are free
*Wednesdays are discount admission.
Exhibition Hours:
The Arboretum grounds are open 365 days a year!
The grounds open at 7:00 a.m. and close at sunset.
Visitor Center and General Information: 
March and April: Daily, 9:00 a.m. to 5:00 p.m.
May through October: Daily, 9:00 a.m. to 6:00 p.m.
November and December: Daily, 9:00 a.m. to 4:00 p.m.
Closed Thanksgiving Day and Christmas Day; closed at 3:00 p.m. on Christmas Eve.
Restrooms in the West Pavilion of the Visitor Center are open daily from 7:00 a.m. to sunset.
Parking is included in the price of admission. During fall, weekends are popular days for visitation. Please allow enough time to park and get to your destination. (Up to one hour.)
Strollers are allowed and pets are not permitted. Credit cards and cash are accepted.
Experience an unforgettable outing full of surprises and awe-inspiring moments. Learn more about The Morton Arboretum. 
Hotels:
Click here for hotels near the exhibit.