There are so many things to do this fall season, and DuPage is a natural choice to experience it all. Enjoy all the usual fall favorites: hiking, outdoor attractions, family events, and festivals complete with seasonal food, music, and good company.
Check out our list of Top 10 Things to Do This Fall below.
1. See the fall colors.
Discover the fall wonderland in DuPage and enjoy the beautiful colors each of these places has to offer. Check out our list of Top Places to Enjoy Fall Colors. 

2. Visit a winery.
From berries and plums to cinnamon spice, what better way to enjoy these fall flavors than at a winery? The wine and winery experiences in DuPage will please your palette this season. 

3. Refresh your fall wardrobe.
Be on the lookout for fall fashion trends this year! Explore the boutiques of our charming downtowns, or DuPage's expansive shopping centers and retail outlets, and find just what your fall wardrobe needs.

4. Pick your perfect pumpkins.
Looking to pick your pumpkins locally? DuPage is the right place to go! Consider Cosley Zoo's Pumpkin Fest that runs throughout the whole month of October. Thousands of pumpkins to choose from, children's rides, and all the classic fall staples make Cosley Zoo a must-visit this season.
Another DuPage fall tradition is Sonny Acres Farm, a family-owned and operated pumpkin farm. The Fall Festival runs September 16 through October 29 and includes a pumpkin patch, mini petting zoo, Wacky Worm roller coaster, seasonal snacks and drinks, and more. 
Want to visit an untraditional pumpkin patch? The Glass Pumpkin Patch at The Morton Arboretum is the place to go! Glassblowers take pieces of glass and create colorful pumpkins out of them. Once they are finished, you can take them home and keep them for years to come. 

5. Find a fall festival near you!
Fall festivals offer a great variety of experiences, from cultural exploration and family bonding to the enjoyment of seasonal delights. Attending these festivals can be a delightful way to embrace the beauty and spirit of autumn while connecting with your community and making lasting memories. This fall, enjoy a variety of fall festivals throughout DuPage County. 
All Hallows Eve
Boo! at the Zoo - Brookfield Zoo
Cantigny Fall Festival
Cider and Ale Festival - The Morton Arboretum
Fall Fest - Lombard
Fall Fest - Warrenville
Founders Day Festival
Howlin' at the Moon
Sonny Acres Fall Festival - Sonny Acres Farm
The Last Straw - Westmont

6. Be spooked by monsters!
What would the fall season be without Halloween and a friendly fright? Monsters, witches, and werewolves have been seen roaming the grounds in Naperville. Experience it for yourself at Naper Settlement's reimagined All Hallows Eve designed for families with kids 16 and under. Check out the extensive line-up of performances and interactive activities.  
Looking for something a little spookier? Howlin' at the Moon is Naper Settlement's 21+ event featuring live music, the Food Truck Graveyard, and Booze Bar. Take a stroll through the Moonlight Market filled with eerie and bizarre items and wander through the Dark Art Gallery.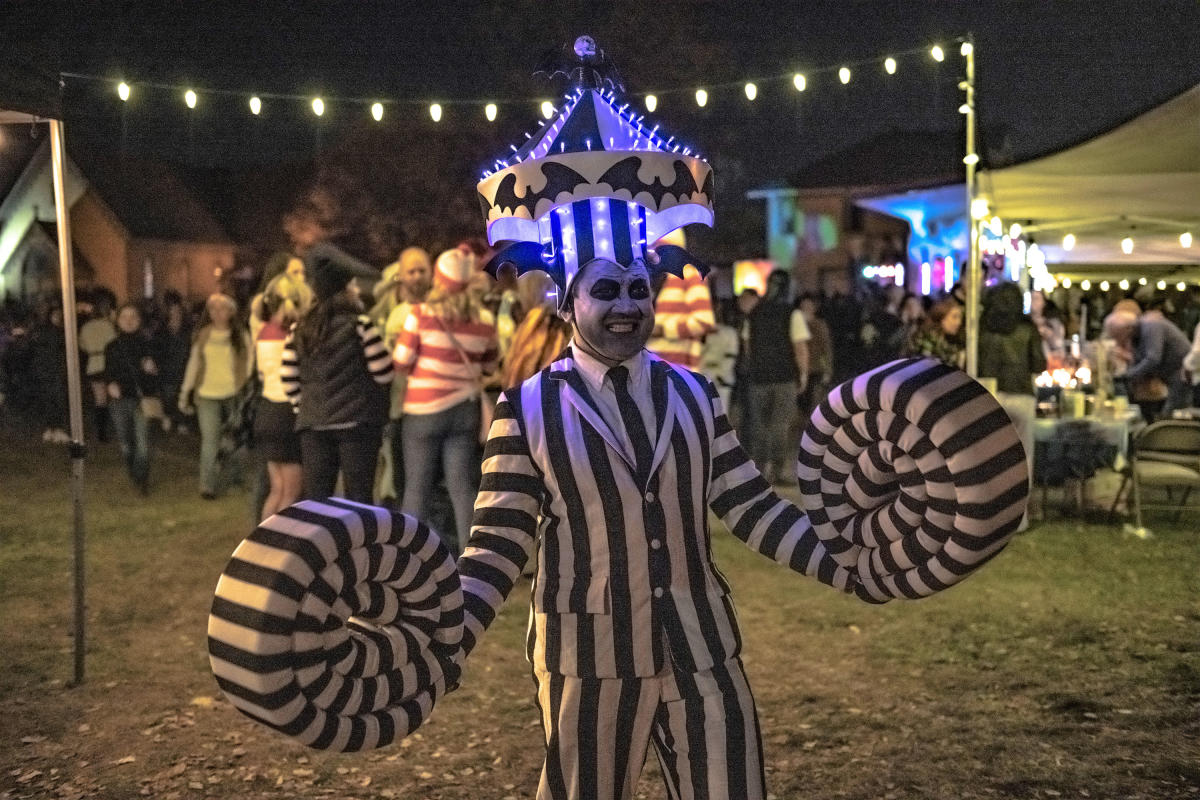 7. Learn about DuPage folklores and legends.
Speaking of spooky, did you know DuPage is known for several folklores and legends? These stories are great to share at any Halloween party, around the fire, or even on Halloween night! 
One of the ways to learn about these spooky legends is by going on a graveyard tour. Graveyard tours provide the opportunity to tour the oldest cemeteries throughout DuPage and meet the residents who lived there. 

8. Savor fall flavors.
Eat and drink like a local this fall! Several DuPage restaurants are known for changing up their menu when the weather gets colder. Learn how to eat and drink like a local this fall!

9. Challenge yourself--and others too!
Up for friendly competition with family and friends? Cantigny Park and The Morton Arboretum both have races during the fall. The Fall Color 5K Run and Walk helps kick off the month of October, as well as the many fall events going on at The Morton Arboretum during the Fall Colors Festival. Additionally, the Cantigny 5K Run/Walk is at the beginning of November, and all proceeds go towards the Midwest Shelter for Homeless Veterans in Wheaton. You can also participate in a Turkey Trot in a community near you. 
Looking for a way to step out of your comfort zone? Try The Forge: Lemont Quarries! This outdoor adventure park is home to a versatile and wide-ranging mix of recreational activities set in a reclaimed natural landscape. From ropes courses, ziplines, climbing towers, running and hiking trails, mountain biking, flatwater paddling, and more, this state-of-the-art park provides a perfect opportunity to challenge not just your family and friends, but also yourself. 

10. Venture somewhere new!
This fall, venture somewhere different. DuPage offers a variety of familiar, new, and unexpected events and activities throughout the fall season. Take a peek at our complete list of fall events below.

BONUS: Make a weekend of it! 
Whether you are a local looking for a fall staycation or a first-time visitor to DuPage, our hotels make for the perfect seasonal stay.