Don't let the winter months get you down! There are plenty of ways for all ages to have fun while staying warm. Home to indoor golf, arcade arenas, museums, bowling alleys, bocce ball, WhirlyBall, and cozy theaters to name a few, plan your indoor adventures today.
Dave & Buster's
Addison, IL
Eat, drink and play at Dave & Buster's in Addison. Guests of all ages can enjoy hundreds of state-of-the-art games ranging from classic video games to all new exclusive arrivals. Be sure to take advantage of the "Eat & Play" combo where you can get an appetizer or entrée plus a $10 power card starting at only $18.99! The destination is suitable for all ages and 18 and under must be accompanied by an adult 25+.
Enchanted Castle Restaurant & Entertainment Complex
Lombard, IL
Enchanted Castle specializes in family fun events for all occasions and ages. Attractions include laser tag, indoor go-carts, bumper cars, the "Catapult" ride, laser maze, mini-bowling, Quest II: Kids Adventure Playland (for children 12 and under) and a "king-size" game room with over 300 sports, video and redemption games plus a large prize center. After working up an appetite, enjoy a meal fit for royalty in the Dragon's Den restaurant.
K1 Speed
Addison, IL
K1 speed uses European-style electric karts that are high-performance machines producing tremendous torque and horsepower from advanced electric motors. These zero-emission karts outperform their gas-powered counterparts while being better for the environment, quieter and arguable easier to drive. With these karts, you don't have to worry about stalling the engine or dropping out of the power band in a tight corner because their electric motors produce maximum torque at all speeds. You can race wheel-to-wheel at speeds approaching 45 mph on an indoor track any day of the week. Junior racers must be at least 48" tall. Adult racers must be at least 4'10 tall.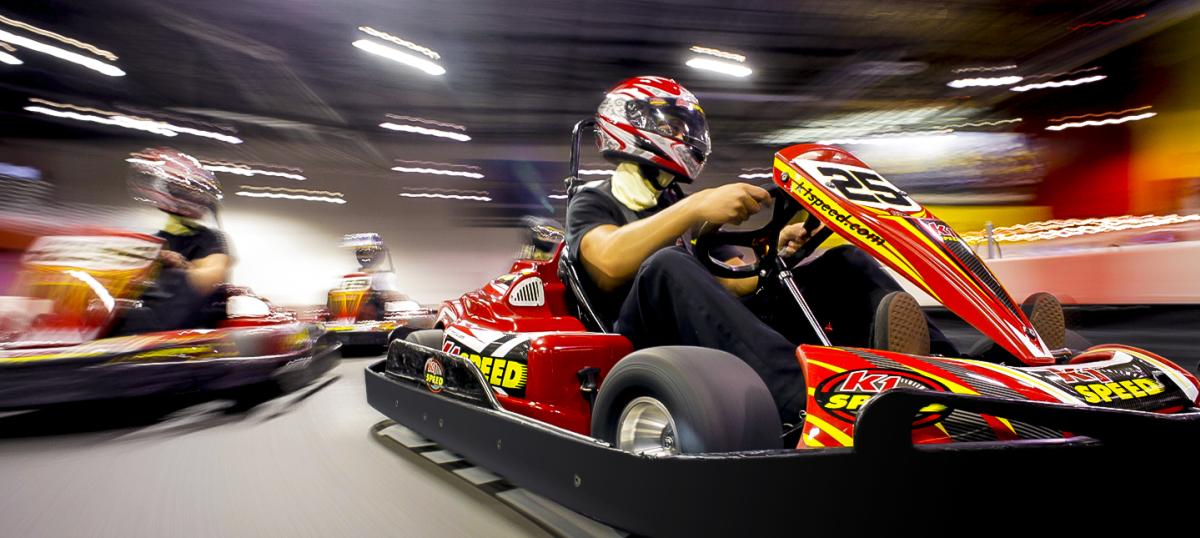 Laser Quest
Downers Grove, IL
Play hide-and-seek and tag with a high-tech twist. Laser Quest provides an exciting adventure for and continues to be the world's leader in the industry. Ready for suspense? Stay a little longer and experience Laser Quest's escape room – Key Quest. This destination is suitable for ages five and above.
LEGOLAND® Discovery Center
Schaumburg, IL
Designed for kids ages three to ten years old, step into the ultimate LEGO playground with rides, build and play zones, a 4D cinema and more! See Chicago's top attractions at LEGOLAND's MINILAND® - made from over 1.5 million LEGO bricks. LEGOLAND® even has exclusive adults-only (16+) events to let the big kids experience the fun too!
Main Event Entertainment
Warrenville, IL
Suitable for all ages, Main Event Entertainment Warrenville offers an "Eat. Bowl. Play." – experience featuring state-of-the-art bowling, multi-level laser tag, thrilling high ropes adventure courses, captivating game rooms, stylish billboards, flexible meeting rooms, energetic bars and high-quality restaurants.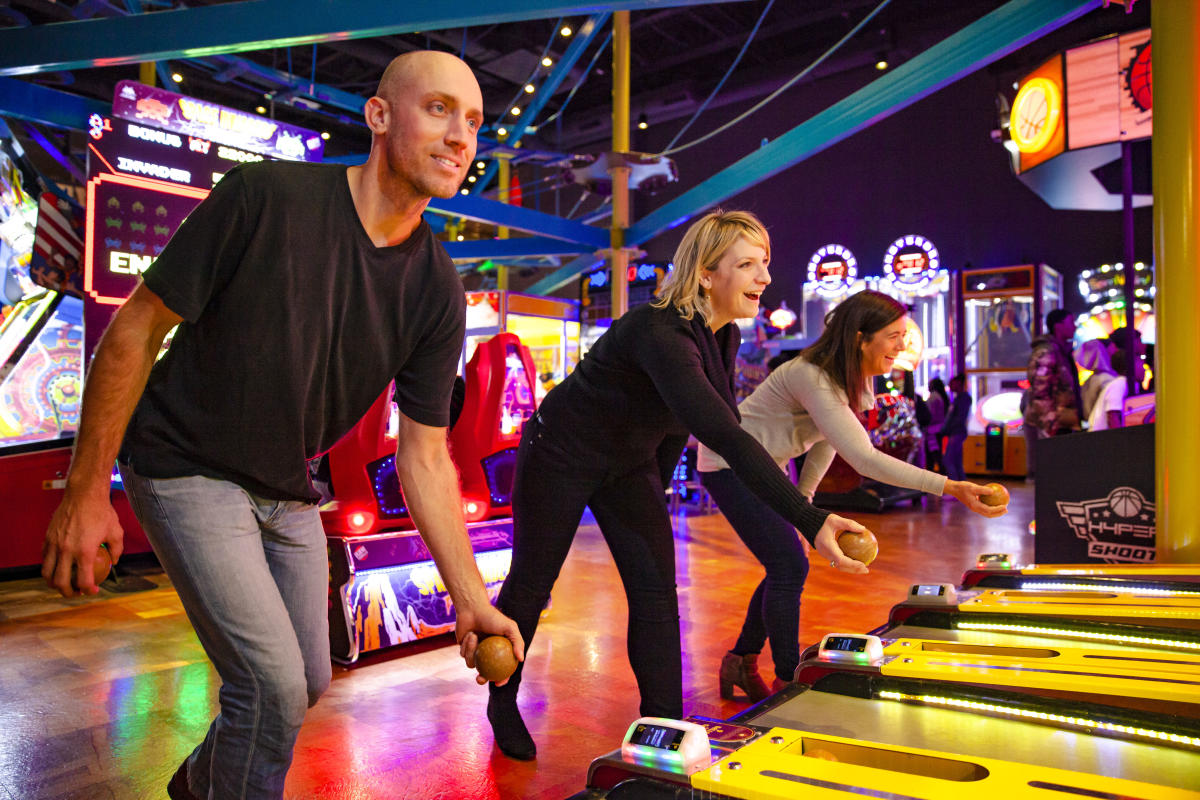 Pinstripes
Oak Brook, IL
A distinctive dining and entertainment venue, Pinstripes Oakbrook is the place to gather with friends or family and celebrate with sophisticated fun. It features a bistro with exceptional Italian/American cuisine served from the scratch kitchen, fine wine selections, bowling, bocce and a year-round outdoor patio with a fire pit. Suitable for all ages.
Stardust Bowl
Addison, IL
This is one of the largest bowling centers in Illinois and in the country. Stardust Bowl in Addison has been serving Chicagoland bowlers for over 50 years. Suitable for all ages, it features 84 lanes, boasts four lounges including the nightspot "Club 300" with daily drink specials, live entertainment, pool, darts, bags, and shuffleboard along with multiple HD TVs. 
Topgolf
Naperville, IL
Fun for all ages and skill levels, Topgolf is a revolutionary state-of-the-art entertainment facility centered around the game of golf. Unlike traditional golf, the goal of Topgolf is to rack up as many points as possible by hitting the microchipped balls into bull's-eyes in the outfield. The further out you hit your ball, the more points you receive. Stay warm all year round in their bays that are climate-controlled with infrared heaters.
WhirlyBall
Naperville, IL
WhirlyBall was the world's first and only, one-of-a-kind mechanized team sport. Up to ten players at a time play an exciting game in souped-up bumper cars called WhirlyBugs outfitted with scoops and whiffle balls. Use your scoop to pass, shoot and score! After a competitive game of WhirlyBall, enjoy bowling, multi-level laser tag, and video games. Satisfy the appetite in The Pivot Room or pull up a stool in the contemporary and comfortable full-service bar. WhirlyBall players must be at least 54" tall.
Tivoli Theatre
Downers Grove, IL
Visit the very first Classic Cinemas theatre. It opened on Christmas Day in 1928 and it was one of the first theatres with sound. On opening day, 4,000 excited people waited in lines that literally wrapped around the entire building, eager to see a "talkie." The theatre was purchased by the Johnson family in 1976, (current owners of Classic Cinemas) and they began a massive project to restore the theatre to its original historic ambiance. Today, it features the most advanced sound and projection system to provide the most immersive experience to movie patrons. The French Renaissance theater offers current movies at bargain prices. Directly below the theatre lies a bowling alley, bar, dining areas, party rooms and plenty of billiards play. 
Local Museums
Let your curiosity reign at any of the local museums in DuPage County. From children's museums to art and history museums, there are plenty of options for learning and exploration while staying warm in DuPage.
Stay & Share with Us!
Book your weekend stay to enjoy more than one attraction. DuPage County hotels offer a variety of package options to fit your needs and wants. Make the most of your stay by check out our world-class shopping and dining.
We want to hear about your DuPage County experiences, share your photos and stories with us using #DuMoreDuPage.