In the late 1930s or early 1940s (no one knows the exact date), two local farm women approached Irv Kolarik, the owner of a small gas station on Route 66, about 50 miles west of Chicago. These entrepreneurial ladies told Kolarik all about their incredible fried chicken recipe and recommended he serve it at his lunch counter — provided, of course, the chicken and eggs were purchased from their farm. The rest, as they say, is history – American history. Almost overnight the restaurant outgrew Kolarik's little counter, first overtaking the two car-repair bays and eventually moving into a building next door as the steady highway traffic brought an endless supply of chicken-loving travelers.
The Fall of Route 66
But, like so many Route 66 businesses, the Chicken Basket fell on rough times with the construction of the U.S. Interstate. "It started with Route 66. It grew and thrived because of it, but it also suffered because of it," explains Patrick Rhea, current owner. Now, some 80 years after the first fried chicken basket was served to cross-country travelers, the iconic U.S. highway, once again, brings road trippers from far and wide to Willowbrook, IL, in search of a piece of American history. That, and the best fried chicken around
The Rhea Family
The Rhea family has deep roots in the DuPage chicken business. Patrick Rhea recalls that his chicken farmer grandfather used to sell his wares to the restaurant. "I came and ate with my parents when this place was still on the highway," remembers Rhea.
It was Rhea's father, Dell, who took ownership of the Chicken Basket in 1963, and, together with his wife, Grace, they gave it new life. Rhea began his first ever shift at the newly renamed Dell Rhea's Chicken Basket at 4 pm on New Year's Eve 1963 and got off work at 10 am on New Year's Day. He was nine. For the next 20 years, Rhea learned everything he could about cooking fried chicken and running a business from his devoted parents. To this day, he religiously follows mom's recipes and dad's business plan.
Today's Chicken Basket
Stepping into Dell Rhea's Chicken Basket is like stepping back in time. "Nothing has changed except the year on the calendar," Rhea laughs. Dell Rhea's Chicken Basket and, its iconic, newly refurbished neon sign are recognized by the Illinois Scenic Byway Association and Route 66 Association. They are also included in the Route 66 Hall of Fame and were inducted into the National Register of Historic Places through the National Park Service.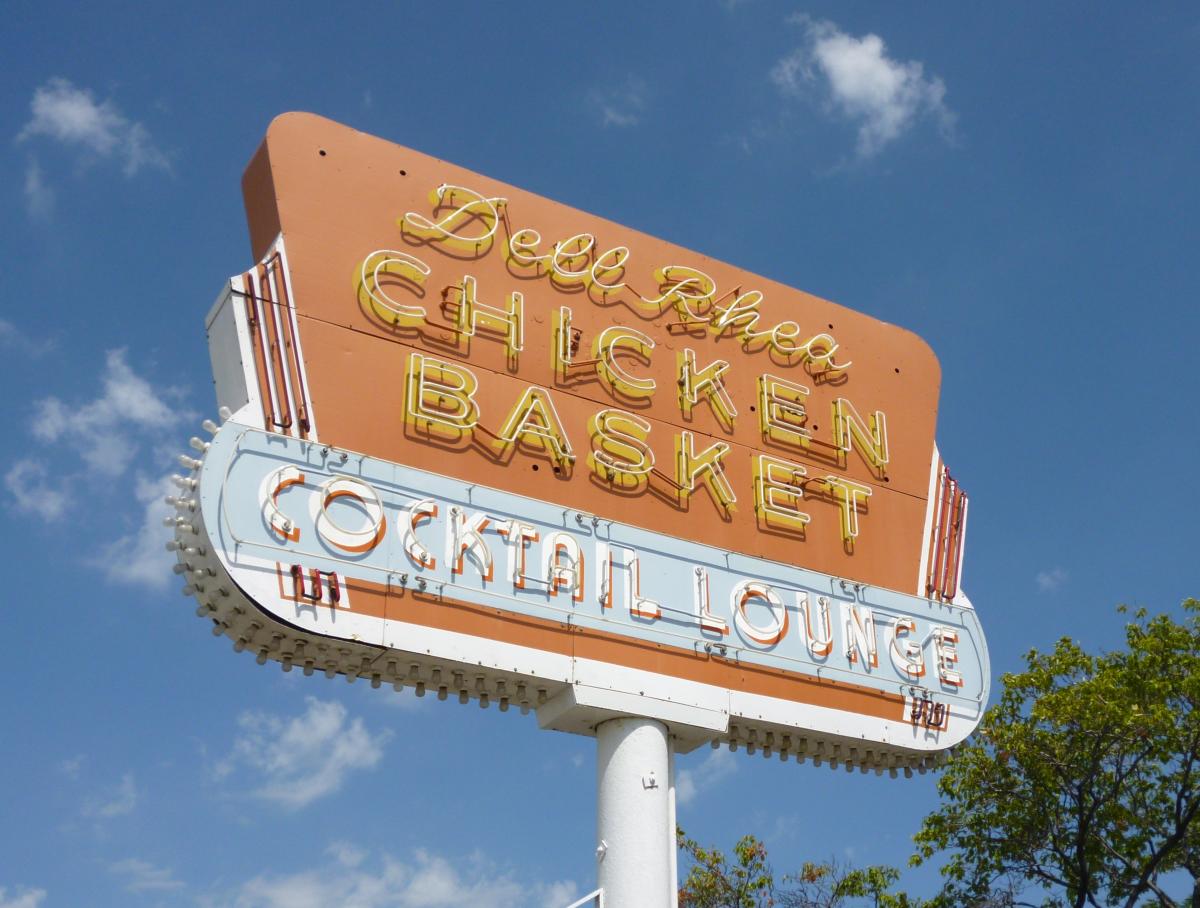 Revival of Route 66
The famous fried chicken and tasty sides certainly keep DuPage locals coming back for more, but it's the Route 66 connection that has gained Rhea an international following. "I meet the most wonderful folks who are traveling along Route 66," smiles Rhea. Dell Rhea's Chicken Basket has been featured on everything from the Food Network's Diners, Drive-Ins and Dives to Billy Connelly's Route 66 to Chicago's WGN, not to mention countless travel and history blogs. The world's fascination with Route 66 and Americana drives a regular amount of global traffic to Dell Rhea's Chicken Basket. Rhea estimates that on any given day between 30%-40% of his customers are from outside the Chicagoland area. "Germany, Ireland, Australia, lots of people from Scotland," Rhea thumbs through his guest book, "Norway, France, China. And that was just one week."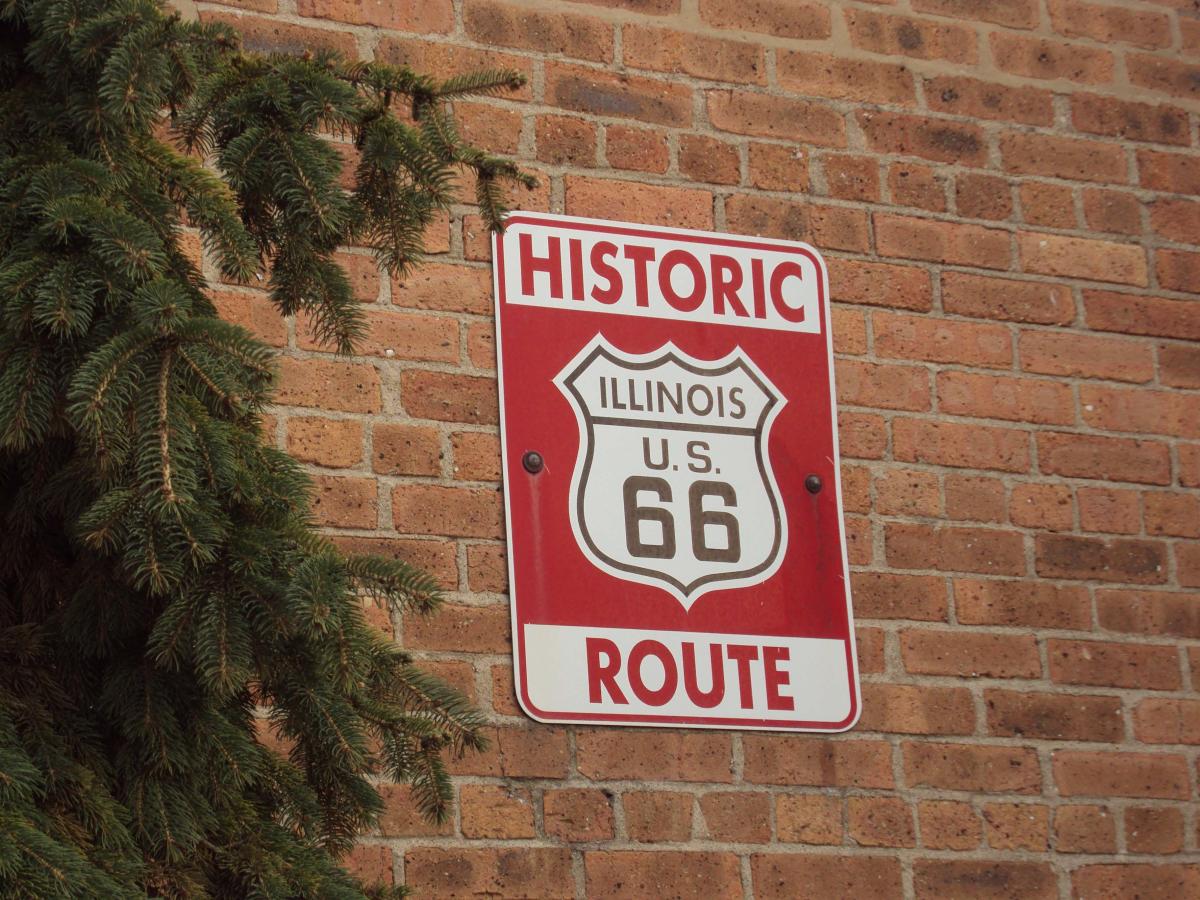 It's All About the Chicken
Though the historic connection is what brings many of his customers to his door, Rhea knows that it's the quality of the food that will keep them coming back. "My mother always taught me to prepare great food. Not good food, great food. My dad taught me not to go find a cheaper chicken, to stick with good, quality chicken." The menu may have grown over the years to include made-to-order favorites like mac and cheese, Buffalo wings, Cajun chicken, mashed potatoes with gravy and more, but Rhea is firm on one thing: "I won't put anything on my menu that isn't as good as my fried chicken." And it's that chicken, that original Route 66 recipe, that has set Dell Rhea's Chicken Basket apart for generations. "I'm very proud of this place, very proud of what we do here. Fried chicken is very American."