What better time than the present to enjoy our hiking options, hilly terrains, award-winning gardens and comfortable strolls - beautiful in any season. 
1. The Morton Arboretum
A stunning natural area open 365 days of the year with 1,700 acres to explore, this natural outdoor living museum with various plants from around the world brings people and communities together. Explore the Visitor Center with The Arboretum Store and Ginkgo Restaurant and Café, nine miles of roads and 16 miles of trails. Timed ticket entry currently required. See all of their tips for visiting the arboretum. 
2. Fermilab Natural Areas (Fermi National Accelerator Laboratory)*
Fermilab offers 6,800 acres of pristine land, complete with hiking trails, an off-leash dog park and Native American bison roaming the prairie land. Hands-on exhibits at the Leon Lederman Science Education Center and the Fermilab Art Gallery in Wilson Hall are visitor favorites. 
*The entire Batavia campus is currently closed to the general public. The lab continues to fulfill its mission as America's premier national laboratory for particle physics and accelerator research as their scientists, engineers, and computer professionals help in the fight against COVID-19.  
3. Cantigny Park
Colonel Robert R. McCormick, the former Chicago Tribune owner, left his 500-acre estate for all to enjoy. Education and recreation opportunities include two museums, expansive gardens, a picnic area, Red Oaks Farm playground and the fully-appointed Visitors Center. Cantigny Golf is home to 27 challenging and scenic holes. 

4. Illinois Prairie Path
DuPage is home to the first successful rail-to-trail conversion in the United States – the Illinois Prairie Path. The path spans over 40 miles in DuPage, and is a main artery connecting communities, quaint downtowns, forest preserves and recreational trails. Regardless of your fitness level, the Illinois Prairie Path helps residents and visitors stay active year-round.
5. Fullersburg Woods
Fullersburg Woods is a prime wildlife haven, featuring miles of multipurpose trails open to hikers, cyclists, horseback riders, cross-country skiers and dog walkers. It features a self-guided tour of the 1.3-mile interpretive trail through lowland woods and restored prairies. A section of the trail connects the nature education center to the Graue Mill and Museum, Graue House and Ben Fuller House. The Wildflower Trail travels through the woods and restored prairie, showcasing many native species of wildflowers.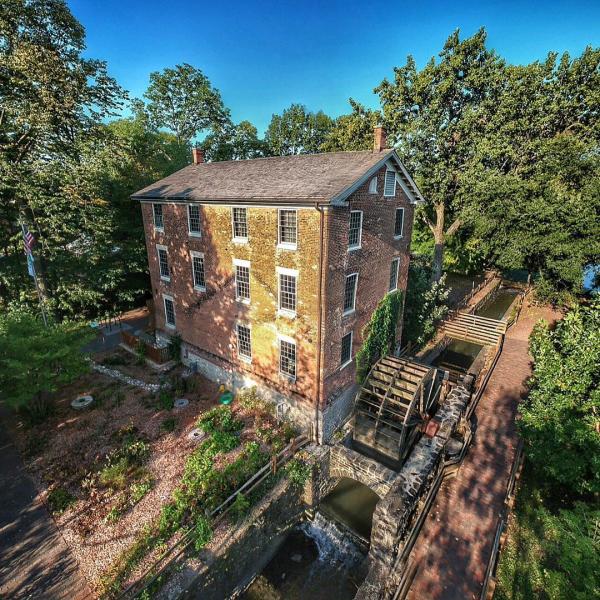 (Photo by @clarkmaxwell)

6. The DuPage River Trail
The DuPage River Trail is planned to travel 40 miles from Channahon north into DuPage County. Three segments of the trail are completed, totaling 8.56 miles. Hammel Woods trail can be accessed via Black Road or Route 59 in Shorewood. Whalon Lake can be accessed at Royce Road and Book Road in Naperville. The paved trails bring hikers through open areas and a historic farmstead.
7. Great Western Trail
The eastern segment of the Great Western Trail in Illinois follows 12 miles of an abandoned railway corridor through DuPage County, between Villa Park and West Chicago. The crushed limestone trail is a favorite for cyclists, walkers, joggers, equestrians and cross-country skiers.
PLEASE NOTE: Due to the popularity of the below sites and over-crowding during the pandemic from increased visitation, DuPage residents and the Forest Preserve District respectfully ask that you keep these on your list for future travel inspiration. With 60 forest preserves in DuPage County, there are many hidden gems for exploration. Visit DuPageForest.org for more information. Please be respectful of our natural resources and everyone who wants to appreciate their respite and beauty: pick up pet waste, do not leave trash, and be mindful of trail etiquette. 
8. Waterfall Glen Forest Preserve
Waterfall Glen is consistently ranked among the best hiking experiences near Chicago and is one of the most ecologically-impressive parcels of open space in DuPage County. In addition to Rocky Glen Waterfall, the preserve is known for The Sawmill Creek Bluff overlook and over 10 miles of hiking trails, including unmarked foot paths. It is also the site of several quarries that historically produced limestone for landmarks such as the Chicago Water Tower.
9. Blackwell Forest Preserve
Blackwell is a local favorite, encompassing 1,366 acres of gently rolling hilly terrain. The forest preserve made paleontological history when a 13,000-year old skeleton of a woolly mammoth was uncovered in 1977 by a Forest Preserve employee. Fun Fact: the land was shaped by the Wisconsin Glacier melting over 12,000 years ago.
10. Herrick Lake
Situated on 887-acres, Herrick Lake is one of DuPage County's most popular preserves, with seven miles of trails, including a section of the nationally-designated Danada-Herrick Lake Regional Trail. A path around the lake connects both parking lots to the picnic grounds and trailhead, and additional trails cut through central and southern parts of the preserve.