The feeling of fall. It is an undeniable yearning to seek out the comforts of the season and the best that nature has to offer. We wait, we watch, and plan — with the hope to time it just right to find ourselves in a moment filled with the tranquility that only fall's brilliant shades of color can deliver. We know the importance of these moments, now even more so than ever. We are grateful for nature's abundance in DuPage and to share this list with you.
Whether you're coming from nearby or making DuPage part of your road trip, these destinations in DuPage are worth discovering, each with their own special snapshot of fall's best. So get ready to take a scenic drive; explore a forest preserve; stroll along tree-shaded streets in our charming downtowns; picnic in a park; or check out DuPage's Natural Wanders. Color your palette and explore the great outdoors!
As one of the healthiest destinations in Illinois, we thank you in advance for helping residents and visitors alike stay healthy — read here on how to adventure responsibly in DuPage. 
As you approach the arboretum and glance at the horizon beyond, you get the feeling that you're in for something spectacular. The arboretum is vast, yet intimate. It envelopes and inspires. And during the Fall Color Festival, stunning vistas of fiery orange, warm gold, and vivid crimson fill your senses. Find yourself on a scenic road, each turn offering a new perspective on fall's bounty. Or perhaps find much-needed alone time, letting a hike wash away stress as the landscape becomes alive with the smell of crisp fall air and the sounds of leaves under your feet. With much demand to visit year round but particularly in the fall, please plan accordingly and know before you go.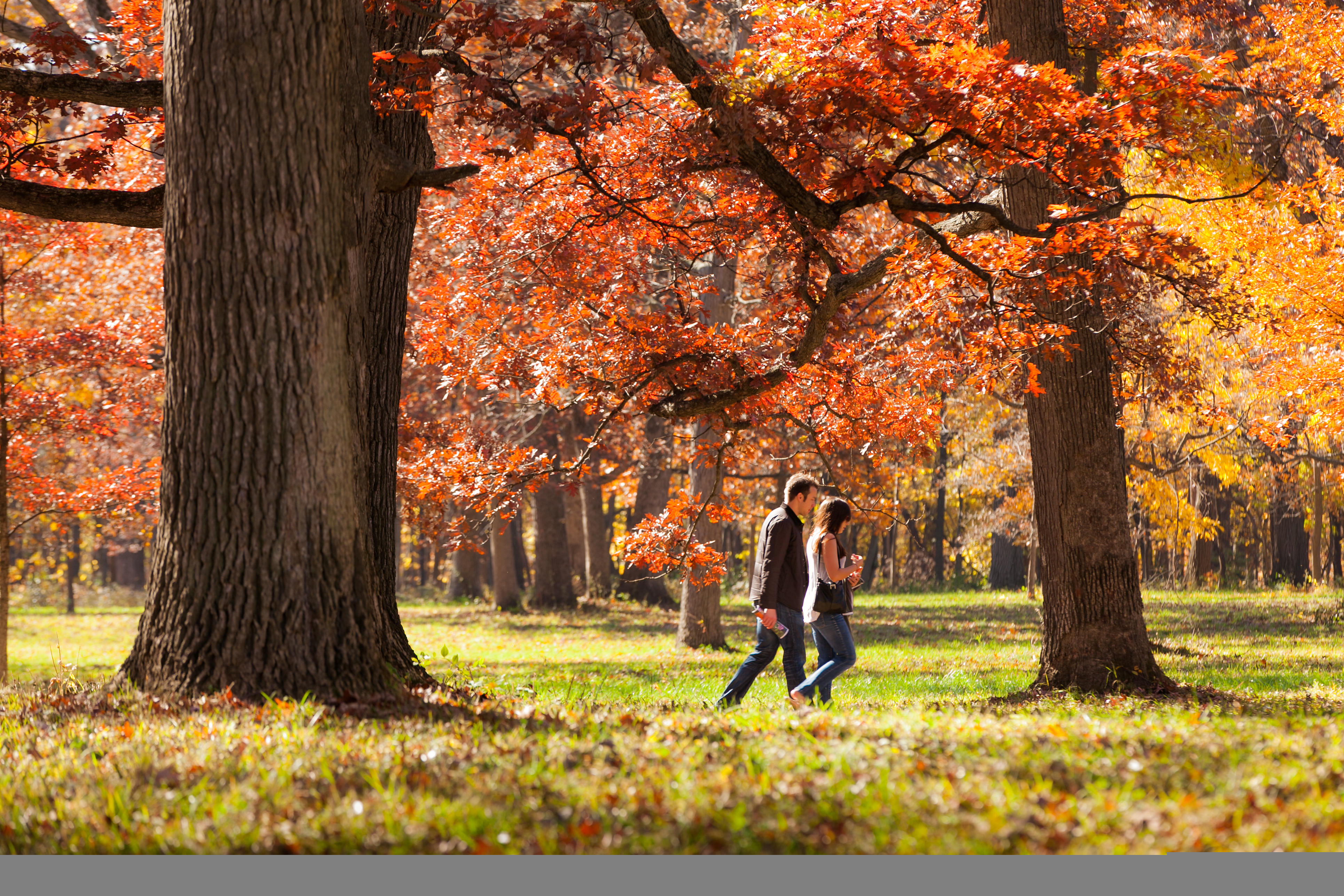 The sounds of the waterfall…the surrounding expanse of color…the lovely trails. This is a special place, drawing people back time and time again. A stop at the Sawmill Creek bluff overlook provides a picture-perfect fall view. Reviewers of this destination use words like "serene" and "enchanting" and we agree. There are four mapped trails, with gently rolling to hilly terrain that add to the total fall package. With its increased popularity during the pandemic, we ask all visitors to be especially aware of changes to forest preserve amenities. Please social distance and leave the beautiful landscape as you found it — leaving with all items you brought in.   
Fall is best served up with a view. And there is no place better than Blackwell Forest Preserve. Blackwell has a little bit of everything…trails, Silver Lake, and panoramic views from the top of Mount Hoy. Wind your way along the path as fall's colors come alive in sparkling reflection on the water. Blackwell is known for its recreation offerings, but in the fall we think Mount Hoy has the commanding presence. The Blackwell experience is unique to each person — whether a serene moment to take in fall beauty or a day of challenge on the trails powered by fall's vivacity. Be sure to check for Coronavirus updates, closures and necessary permits prior to your visit.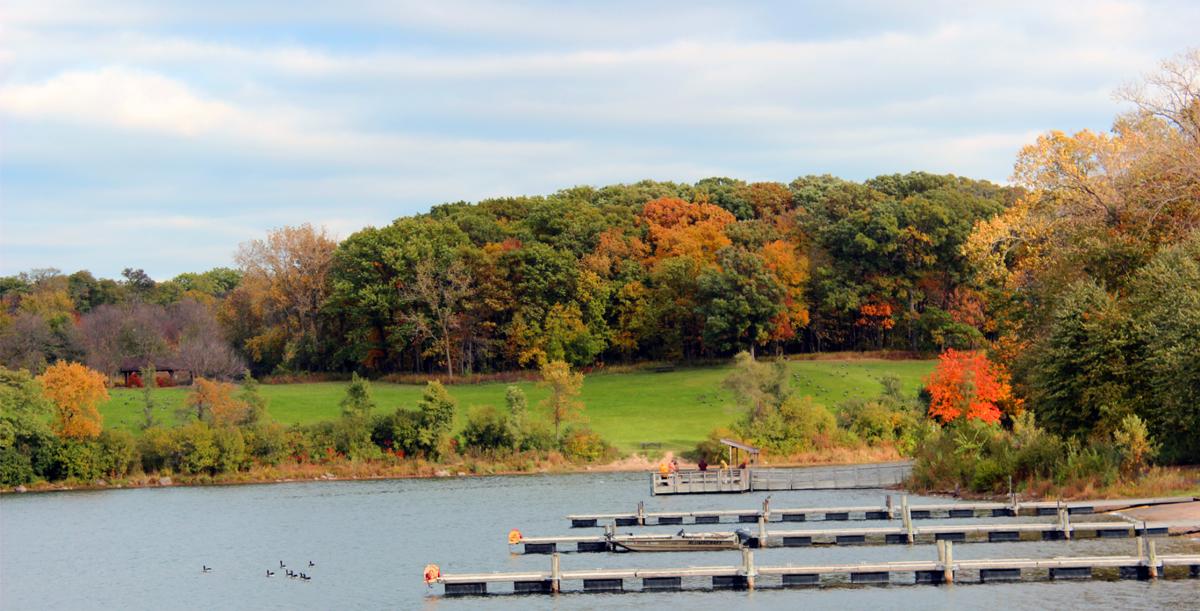 A trip to Kentucky horse country without leaving DuPage. At Danada, awe and respect for horses harmoniously blends with appreciation for nature. While the Equestrian Center, barn and buildings remain closed, you are welcome to roam the meticulously-maintained estate gardens and surrounding preserve. Due to coronavirus, please refrain from touching or feeding the animals. Nearly three miles of the nationally-designated Danada-Herrick Regional Trail wind through prairie, woodland and marsh habitats — particularly scenic during fall. Extend your trip to include the full Hoofbeats through History experience in our Natural Wanders series, with Danada as your starting point in a five-preserve adventure.
If you've been here before, there is reason to visit again. The park has been completely reimagined through Project New Leaf. Cantigny is home to one of the largest display gardens in the Midwest, expertly planned to showcase the ever-changing beauty of each season. Pictures alone of Cantigny during fall are simply stunning — imagine the overwhelming joy when immersing yourself in the real experience. Bring your binoculars, fall is prime bird watching season at Cantigny.
(Image: Kirk Steinbruecker)
There is something to be said for "firsts." The IPP started it all, and decades later we're seeing the rail-to-trail movement go full steam across the country. With 40 miles in DuPage, a ribbon of color extends for miles and miles — uplifting certainly for the eye but also the soul. Simply enjoy or stop along the way for the fall beauty and the small-town charm of downtown Elmhurst, Glen Ellyn and Wheaton. The IPP is off-road and entirely crushed limestone — making this excursion accessible and enjoyable for all.
This time of year, nature is at its best on the rolling greens. Golf is big right now for a reason – it lends well to social distancing and it's easy to spend the day out in the cool fall air in a landscape perfected by pops of color. DuPage is a renowned golf destination, welcoming novices to the pros. With more than 50 golf courses to choose from, a number of which are award-winning and feature varied terrains, this is a DuPage fall favorite.
Not far off from the urban rush is a small destination most noted for the historic Graue Mill and Museum, but we think the magic of fall here rivals that of bigger destinations. Quaint bridges seem to come alive in fall, as if inviting you to a special place on the other side. Fullersburg Woods does just that, transporting visitors on their fall escape, and to a new place of serenity. The "Flat Bridge" is a perfect place to appreciate your surroundings, with a beautiful view of the nearby Education Center (currently closed). The 2.3-mile Night Heron Trail is popular among fall enthusiasts. This is a wildlife haven — you are sure to see animals along your way, including migratory birds.
This is not just your usual park. Wilder Park is part of the pulse of Elmhurst, welcoming residents and visitors to meander, stay a little longer and truly feel the best of small-town charm. This is a beautiful spot to be admired… your place to unwind, picnic in the park under a shade tree, and appreciate the warmth of color across 17 acres. Whether walking the grounds of Wilder Mansion, exploring Wilder Park Conservatory, strolling the formal gardens, or letting the kids loose at the playground, you will feel a sense of familiar comfort but delight in the unexpected. Be sure to plan a stop at Elmhurst Art Museum, at the northern corner of the park, to experience a beauty all its own.       
Share your best fall images with us using #DuMoreDuPage for a chance to be featured!