Happy Father's Day indeed, as we celebrate the state's official reopening on June 11th. Make this year's Father's Day a grand affair, with much to do as businesses across all industries are able to operate at full capacity. Here are our Top 5 Ways to Celebrate Dad:
1. Plan a Golf Getaway
Always a favorite and with more than 50 courses to choose from, DuPage is the destination for golfers. Plan a whole day: golf with friends, enjoying a stop afterwards for a cold craft beer, and a perfect end to the day with the whole family at his restaurant of choice. For those avid golfers, one day in DuPage just isn't enough. Make it a getaway and book a stay at one of DuPage's hotels and resorts. 

2. Enjoy Polo Town
Treat dad to an afternoon of tradition with the Oak Brook Polo Club — one of the oldest polo clubs in the United States. Played on the Prince of Wales Field adjacent to the Butler National Golf Course and The Drake Hotel in beautiful Oak Brook, each match sets the scene for a spectacular event and social scene. See the schedule and purchase tickets here.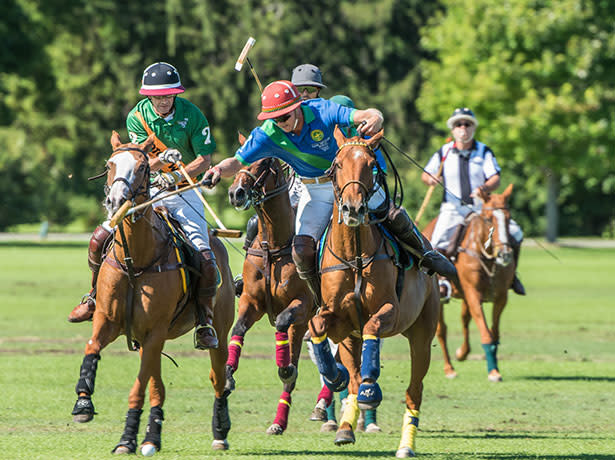 3. Hang with the Kids
Make up for lost moments caused by the pandemic and get out and about with the whole family. Check out our list of family-friendly destinations and simply enjoy dad time.
If you haven't tried a wood-fired pizza from Gia Mia, we suggest heading over to one of their locations (Wheaton, Downers Grove, Elmhurst and St. Charles) -- the kids can enjoy pizza or fresh pasta, while the adults can indulge in creative small plates, an exclusive wine list and craft beers.
4. It's Go Time
Have a good old-fashioned day of competition! Choose from Main Event Entertainment, Dave & Buster's, K1 Speed, Whirlyball and more. Check out our full list of entertainment options.    
5. Pick from our Calendar of Events
What kind of dad is your dad? DuPage has something for everyone. Check our calendar often, as new events are added weekly, especially with the state's reopening and summer upon us.