Savor the simple pleasures of the season, many of which are free! Time to bundle up for some merry winter strolling. Be sure to celebrate locally as you visit our communities and be awe-inspired by the holiday lights each community has to offer. 
Christmas and Holiday Lights Throughout DuPage

Winter Lights at Central Park, Oak Brook
November 23, 2023 - January 7, 2024
Enjoy a 1/2 mile walk through the beautifully lit Central Park! Discover dancing trees, inspirational signs, colorful rainbow arches, cascading snowflakes, and musical hearts throughout this scenic walk. Dogs are allowed on a leash, and the paved pathways make this light display inclusive and accessible.

Festival of Lights and Tree Sales at Cosley Zoo, Wheaton
November 24 – December 31, 2023
The zoo is open 9 a.m. – 9 p.m. daily, with the last entry time at 8:30 p.m.; holiday lights come on at 3 p.m. The winter wonderland features 20,000+ twinkling lights and a herd of whimsical lighted animal figures. Be sure to stop in the Wild Side gift shop for a great selection of unique holiday gifts. Zoo admission is free during this event, however timed entry reservations are required. Donations are greatly appreciated.

Nights of Lights at Adams Park, Wheaton
November 24, 2023 – January 7, 2024
Nights of Lights returns to Adams Park for its fourth year! Featuring over 55,000 bulbs lighting the trees and an animated light display at the fountain, a walk through Adams Park will "wow" the whole family.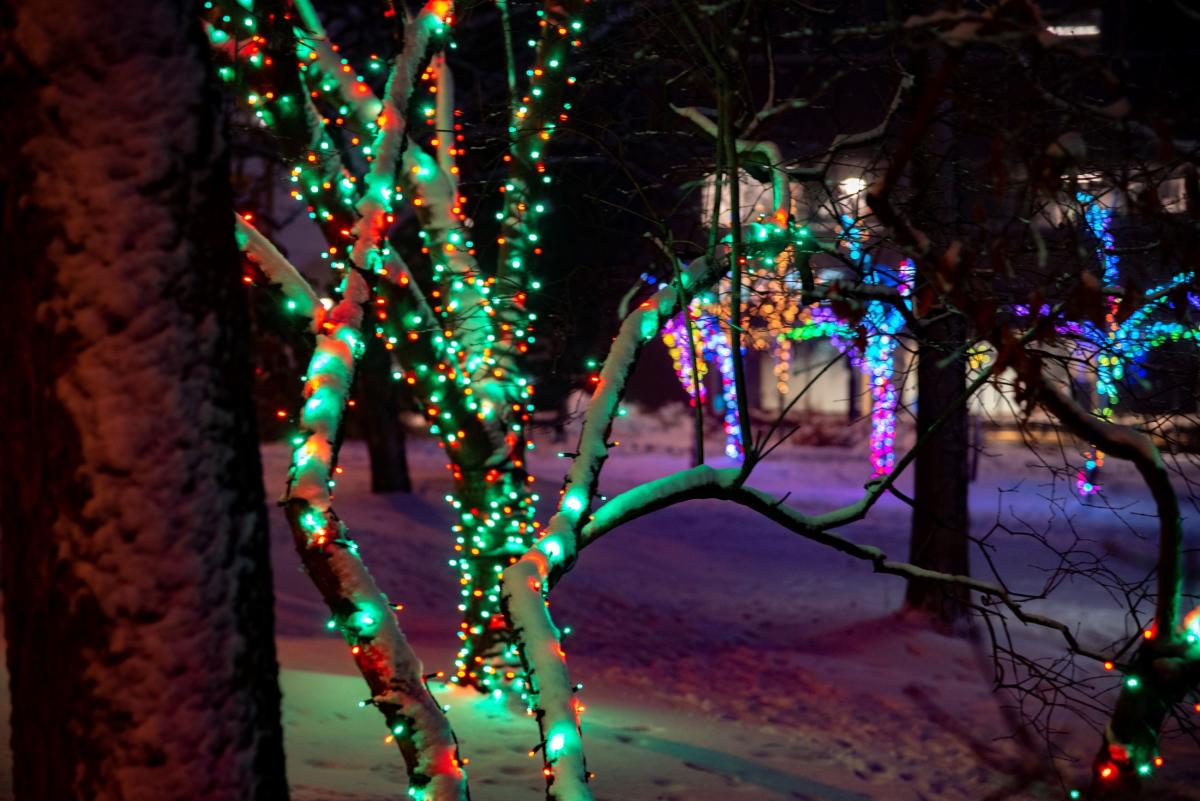 Holiday Lights at Lilacia Park, Lombard
December 2, 2023 – January 1, 2024
Join the Lombard Park District's annual lighting celebration at Lilacia Park. Charming holiday displays light up the park with a magical array of animated light shows, decorated trees, a gingerbread house, and much more.

Charming Downtowns
Historic main streets are even more picturesque, adorned with lights and the magic of community pride. Enjoy the art of the well-decorated storefront and tastefully appointed holiday planters. Not sure what to get for that special someone? Do a little window shopping and see what catches your eye. 'Tis the season!  

Free Holiday Events Throughout DuPage
DuPage County can guarantee you a memorable and bright holiday season for no cost. Check out the following free holiday events:
Deck The Green, Burr Ridge Village Center | November 17, 2023
Wheaton Christmas Parade, Downtown Wheaton | November 24, 2023
Third Annual Light Up The Drake Tree Lighting, The Drake Oak Brook, Autograph Collection | November 29, 2023
Holly Days, Warrenville | December 1, 2023
Snow Much Fun, Westmont | December 1, 2023
Christmas Parade, Addison | December 2 and 9, 2023
Frosty Fest, Downtown West Chicago | December 2, 2023
Once Upon a Christmas, The Museums at Lisle Station Park | December 2, 2023
Roselle Winterfest, Roselle Main Street | December 2, 2023
Looking for more holiday fun? Check our Calendar of Events, as new events are added weekly!